Written by QZAP
Tuesday, 15 July 2008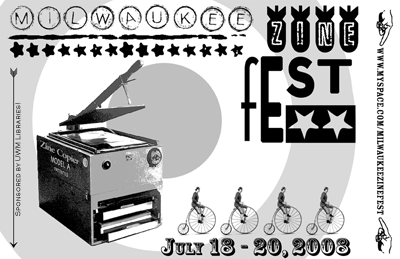 It's a major zinefest weekend. This coming Saturday and Sunday QZAP will be at the first annual
Milwaukee Zine Fest!
We're very excited to have this happening in our lovely city. Chris will be leading a workshop / discussion on queer zines, and Milo will be doing one with Joe Biel from
Microcosm Publishing
on zinester economics. If you're in Milwaukee, Madison, Chicago, or anywhere within a couple hundred miles, you should definitely make your way to the Brew City for an awesome weekend of workshops, zines bands, and fun.
If you're not near here, but are in the vicinity of Northern California, the
San Francisco Zine Fest
is also this weekend at the County Fair building in Golden Gate Park. We usually try to get there, but obviously the core of QZAP is pretty busy (see above). Fear not, however. Our good friend and queer comic artist/zinester
Nick Leonard
will be there. He'll have a table with some of our propaganda, zines, and other goodies in addition to his own great work. If you're in SF or the Bay Area, please stop by and say hello to him.
Finally, in other zinefest news, the
Boston Zine Fair
has opened up registration for tables. It will be in September this year.
Papercut Zine Library
has taken over the event from the lovely Black Ocean, and it should be fantastic. Put it on your calendars, especially if you're in the northeastern part of the US or Canada.
Hope to see some of you this weekend!
Love,
QZAP
Last Updated ( Tuesday, 15 July 2008 )