Written by QZAP
Wednesday, 21 January 2009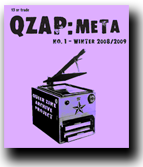 It's been quiet here... too quiet. All that's about to change, though. QZAP is very happy to announce that QZAP:meta #1 is finished! QZAP:meta #1 is our new zine about queer zines. Hence the name. The first issue has writing by members of the QZAP collective, Rio Safari (Homobody), Jessica Max Stein, and more.
To get your copy, please use the "Donate Now" button on the left or send $3.00 (USD) to:
QZAP
2935 N. Fratney St.
Milwaukee, WI 53212
USA
In other QZAP news, we've passed the 200 mark. As of this writing, we've got 215 zines or pieces of ephemera uploaded in the archive. One of the items recently added is a series of single page flyers that came from the Emma Center in Minneapolis, Minnesota. The Emma Center Collection contains amazing pieces of confrontational queer/radical history. Enjoy!
Finally, if you are in London this weekend, you should go to the Zine Fest that's happening on the 24th. There will be lots of great workshops and vendors, including QZAP friends Red Chidgey and Rachael House.
Last Updated ( Wednesday, 21 January 2009 )